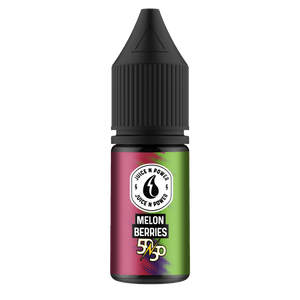 Melon Berries e-liquid by Juice N Power is a unique fruit blend with a tangy endnote. From the first vape, the sweet taste of classic melon can be detected. The sweetness of which is countered by the sharper taste of wild berries. 
For use in smaller pen style devices, pod systems and MTL tanks ONLY, we do not recommend these liquids to be used in high power sub ohm tanks
UK Made
50/50 VG/PG
10ml Bottle
3 / 6 / 12mg
Child Safe Cap
Tamper Evident Seal
Ingredients List: Propylene Glycol (50%), Vegetable Glycerine (50%), Food Grade Flavourings, Pharmaceutical Grade Nicotine – Made in ISO Clean Room.
Base Flavours: Wild Berry Mix, Honeydew Melon