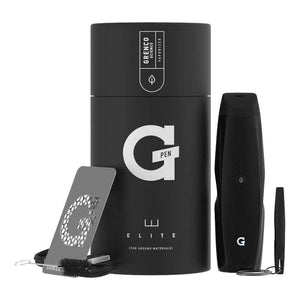 The G Pen Elite is an ergonomically designed portable convection vaporizer for use with dry herbs and ground material.
The most eye-catching feature of the G Pen Elite is undoubtedly the 0.11 cubic inch oven – the largest on the market. A huge fully ceramic heating chamber with an all-new 360° ceramic coil-less heating element offering fast, even convection heating from all sides and a clean vapour path for a smooth, clean hit every time. The whole vapour path can be quickly accessed for easy cleaning of the oven and mouthpiece.
The Elite spans the full gamut of vaping temperatures, from 93°C all the way up to 220°C. The temperature setting is fully customisable – you can set the Elite to any temperature you like within that range. Temperature is indicated on the sleek LED display and can be toggled through using the simple scroll buttons next to the screen. The Elite heats up to your desired temperature in around 30 seconds and haptic feedback lets you know when your Elite is ready to use.
The power comes from a high grade lithium-ion battery and G Pens smart-chip technology which sustains battery life for extended use. The Elite can be recharged with a micro USB to USB charging cable.
This high-end vaping system is all neatly wrapped up in a sleek ergonomic shell for comfort and discretion. The Elite comes complete with a loading tool keychain, a G-card shredder, a small cleaning brush and a micro USB charging cable.