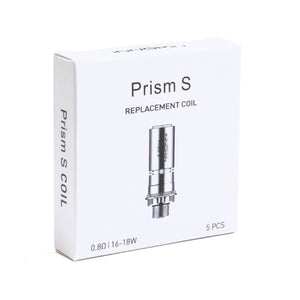 Both Prism S 0.8 & 1.5 Coils can only be used in the Innokin T20s Kit & their EZ Watt Kits only
----------------------------------------------------------------
Innokin cross-compatible coils
Designed for MTL Vaping
Compatible with high VG and high PG e-liquids
0.8 Rating: 15-18w
1.5 Rating: 10-14w
Designed for ease of use, these Innokin vape coils feature 'no-spill coil swap'. Each coil houses a 510 connector pin; so by unscrewing the base of your tank you can pull the coil straight out and replace it, quickly and cleanly.
1 Box Contains 5 x Prism S 0.8 or 1.5 coils.
Please note: The Prism S Coils are not compatible with the iClear 30, iClear 30S, Endura T18, T20 Endura or T22 tank models.