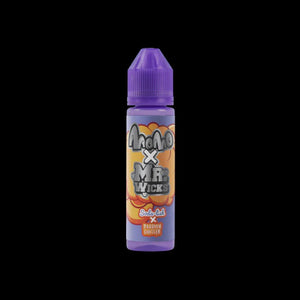 *ALL shortfill bottles come with ZERO nicotine, don't forget to add your nicotine shots HERE*
Soda Lish Grape Soda by Momo X Mr Wicks combines two popular flavours from two household names within the vaping industry. Merging a raspberry, plum, and grapefruit lemonade, with a refreshing mix or Passionfruit, Guava, Lemon and a touch of ice.
Momo x Mr Wicks is available in 50ml short fill bottles in 0mg nicotine strength. These e-liquids feature a 70% VG ratio, ideal for use with Sub Ohm devices and RDA/RTA's, with a range of fruit, aloe, pudding, and icy flavours to choose from.
50ml Shortfill Bottles
0mg Nicotine Strength
70% VG / 30% PG
Best use in Sub Ohm, can be used for MTL with right device.
Made In UK
Childproof Cap
Tamper Evident Seal
Ingredients List: Propylene Glycol (30%), Vegetable Glycerine (70%), Food Grade Flavourings
Base Flavours: Plum, Raspberry, Grapefruit, Lemonade, Passionfruit, Guava, Lemon, Crushed Ice