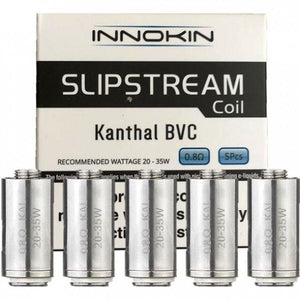 The Innokin SlipStream replacement coils have been designed for their Slipstream vape tank. Recommended for sub ohm vaping, they should be paired with e-liquids above 60% VG.
Features:
Innokin sub ohm coils
Compatible with high VG e-liquids (Best)
Featuring a bottom vertical coil that funnels air from the top of the coil down, the SlipStream coils are leak resistant.
Available as a 0.8 Ohm Kanthal coil that can be used in Variable Wattage mode only..
Contains:
5 x Innokin Slipstream Vape Coils