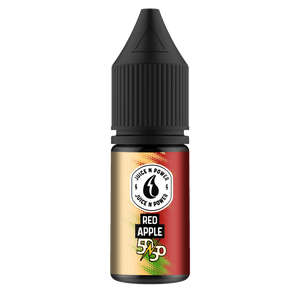 Enjoy a fruity yet reserved blend of sweet and tart and revel in the taste sensation of indulgent simplicity with this all-round flawless flavour. Grab a treat and take a journey into a rich tapestry of flavour that will envelop your taste buds in heavenly simplicity.
For use in smaller pen style devices, pod systems and MTL tanks ONLY, we do not recommend these liquids to be used in high power sub ohm tanks
UK Made
50/50 VG/PG
10ml Bottle
3 / 6 / 12mg
Child Safe Cap
Tamper Evident Seal
Ingredients List: Propylene Glycol (50%), Vegetable Glycerine (50%), Food Grade Flavourings, Pharmaceutical Grade Nicotine – Made in ISO Clean Room.
Base Flavours: Red Apple