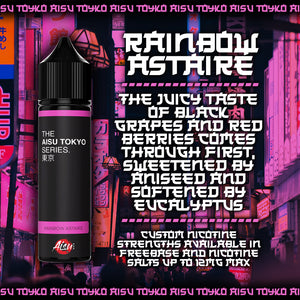 *All shortfill bottles come with ZERO nicotine added, don't forget to add nicotine to your bottle if you need it, you can add this HERE*
Rainbow Astaire shortfill e-liquid by AISU Tokyo is a complex fruit blend that offers a unique vape. The black grape and red berries are sweet, pairing well with the combination of aniseed and eucalyptus.
Featuring a 70% VG concentration, this e-liquid creates a large amount of vapour for sub ohm kits. 

50ml Of E-Liquid In A 60ml Shortfill Bottle
Space For 1 x 10ml Nic Shots
70% VG / 30% PG
Designed For Sub Ohm Vaping/Can use in MTL with right device
Made In Manchester
Childproof Cap
Tamper Evident Seal
Recyclable Bottle
Ingredients List: Propylene Glycol (30%), Vegetable Glycerine (70%), Food Grade Flavourings
Base Flavours: Grape, Red Berries, Aniseed, Eucalyptus