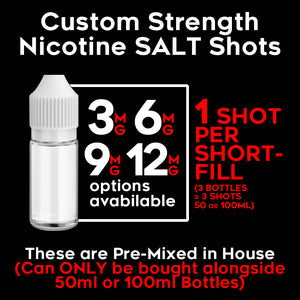 *3mg, 5mg, 6mg, 9mg, 10mg & 12mg are the standard strengths, if you want any custom strength that isn't an option - 1.5mg, 4.5mg or 8mg for instance, please add ANY strength to your order, and specify custom strength in the NOTES at checkout*
Add ONE nicotine shot for every 50ml, TWO nicotine shots for 100ml, eg; For a 50ml & 100ml in same order add THREE nicotine shots. If you only add ONE nic shot for 100ml you will only get half the strength you want.
MAX Nicotine Strength we can offer is 12mg. 
Custom strength nicotine salt options for your shortfill: