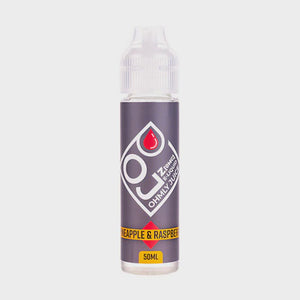 Honeydew Blackcurrant - mixes the sweet taste of ripe honeydew melons with subtle notes of juicy tasting blackcurrants, creating a distinct fruit cocktail flavour.
Apple Grape Bubblegum - layers notes of green apple and purple grape with American-style bubblegum creating a sweet and juicy-tasting vape.
Fruit Sweets - recreates the recognisable taste of a classic British gummy candy. The taste of mixed juicy fruits are complimented by a sweet sugary note noticeable throughout.
Mango & Lime - a fusion of tropical mangos and sharp notes of lime. This exotic combination of fruits delivers a fresh tasting summery vape.
Pineapple Raspberry - combines the exotic taste of pineapples with the sharp and zingy flavour of raspberries, this medley of fruits delivers a sweet tropical vape.
Sour Apple Candy - a fusion of crisp tasting green apples and a sour candy which balances sweet and sour notes creating a zingy flavour.
Strawberry Lemonade - recreates the taste of a summer classic. Sweet notes of strawberry are given a sharp exhale by the lemonade flavour.
Vim Juice - inspired by classic drinks flavour, creating a complex blend of mixed summer fruits including grapes and raspberries with a sweet sugary finish.
Made in Belfast
70/30 VG/PG
50ml Bottle in 0mg
Space for 2 x 10ml Nicotine Shots
Child Safe Cap
Tamper Evident Seal
Ingredients List: Propylene Glycol (30%), Vegetable Glycerine (70%), Food Grade Flavourings, Pharmaceutical Grade Nicotine – Made in ISO Clean Room.
Base Flavours: Raspberry, Blackcurrant, Strawberry, Lemon, Citrus, Pineapple, Apple, Mango, Lime, Grape, Bubblegum, Honeydew Melon, Fruit Candy.