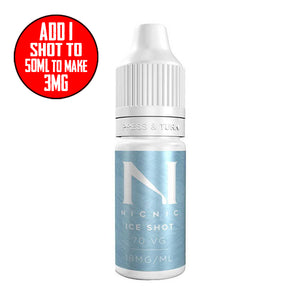 Nic Nic Iced 10ml Nicotine Shots are designed to be used with shortfill eliquids to create an icy hit to any of your favourite flavours!
These 70% VG nic shots will increase the overall nicotine content of your eliquid.
Add 1 x shot to 50ml shortfill = 60ml 3mg eliquid (0.3%)
Add 2 x shots to 100ml shortfill = 120ml 3mg eliquid (0.3%)
*Please note, if you need any strength higher than a 3mg in your 50ml or 100ml shortfill bottles please select 'OV Nic Shot' on the previous page, 1 for 50ml & 2 for 100ml bottles in your desired nicotine strength*.
18mg

10ml Bottle

Child Safe Cap

Tamper Evident Seal
Ingredients List: Propylene Glycol (30%), Vegetable Glycerine (70%), Food Grade Flavourings - Made in ISO Clean Room