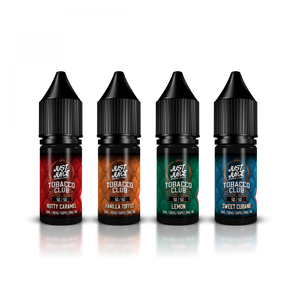 Lemon Tobacco - Fusing together one of the world's oldest and most popular tobacco types with a zesty twist, this Just Juice signature flavour is guaranteed to be a staple in your collection. Sit back, relax and experience a luscious flavour intense tobacco blend.
Sweet Cubano - All-natural Cuban Tobacco has been handcrafted on the island nation for more than 1000 years. It is estimated there are over 200 stages to creating a single cigar, with each step adding a unique layer of taste and aroma. The end result is a truly superior experience which makes Cuban cigars one of, if not the, best in the world.
Nutty Caramel - The seed of the cigar industry in Nicaragua was actually planted in Cuba. At the beginning of the 1960s revolution, the island nation's great cigar makers began their search for new land and soil which could support their artisanship. They found 'the second coming of Cuba' in Nicaragua, which today many argue is the highest quality tobacco in the world.
Vanilla Toffee - Cuban tobacco is renowned across the world for its rich and flavourful taste. This distinctive full-bodied tobacco expertly blends mild notes of creamy Madagascan vanilla with luxurious British toffee. A smooth and superior tobacco experience.
For use in smaller pen style devices, pod systems and MTL tanks ONLY, we do not recommend these liquids to be used in high power sub ohm devices.
UK Made 
50/50 VG/PG 
10ml Bottle 
11 / 20mg Nic Salt 
Child Safe Cap 
Tamper Evident Seal 
Ingredients List: Propylene Glycol (50%), Vegetable Glycerine (50%), Food Grade Flavourings, Pharmaceutical Grade Nicotine – Made in ISO Clean Room.
Base Flavours: Cuban Tobacco, Vanilla, Toffee, Lemon, Mixed Nuts, Caramel