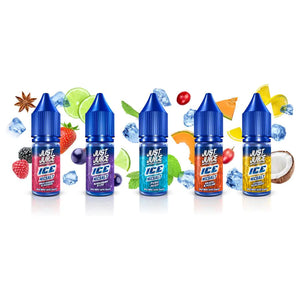 Blackcurrant & Lime Ice - Filled with sweet juicy blackcurrant expertly infused with fresh lime and mint to deliver the perfect summer vape
Wild Berries & Aniseed Ice - Flooded with every outlandishly juicy berry we could find, balanced with lightening sharp sweet aniseed and finished with a fresh menthol breeze.
Pure Mint Ice - If you love soft mints as much as we do, you're going to love this Moorish liquid that packs a punch.
Grape & Melon Ice - Say hello to your new favourite fruit combo on the rocks. With strong succulent black grapes on the inhale followed by delicious sweet melon on the exhale.
Citron & Coconut Ice - We know you're going to love this sweet and creamy juice perfection. Invigorate your senses with mouth-watering fresh citron rounded off with luscious coconut. Take a trip to vaping heaven.
For use in smaller pen style devices, pod systems and MTL tanks ONLY, we do not recommend these liquids to be used in high power sub ohm devices.
UK Made 
50/50 VG/PG 
10ml Bottle 
11 / 20mg Nic Salt 
Child Safe Cap 
Tamper Evident Seal 
Ingredients List: Propylene Glycol (50%), Vegetable Glycerine (50%), Food Grade Flavourings, Pharmaceutical Grade Nicotine – Made in ISO Clean Room.
Base Flavours: Mint, Menthol, Grape, Honeydew Melon, Citrus, Coconut, Aniseed, Mix Berries, Blackcurrant, Lime, Crushed Ice