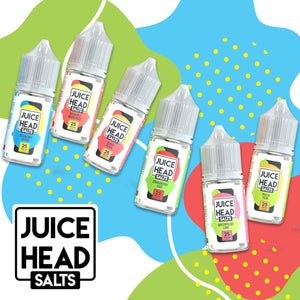 7 FANTASTIC FRUITY FLAVOUR TO SINK YOUR CHOPS INTO, DISCOVER YOUR NEW FAVOURITE RANGE TODAY!
Peach Pear infusing a rich and succulent peach essence expertly mixed with a crunchy sweet pear.
Pineapple Grapefruit an infusion of zesty pineapples and luscious grapefruits for a tasty vape creation.
Blueberry Lemon blending together notes of tangy lemons enhanced by the sweetly sour overtone of bursting blueberries.
Watermelon Lime luscious watermelons and sour limes for an explosion of flavour that will rock the senses.
Strawberry Kiwi sun-ripened strawberries and tart kiwis with a creamy touch at the end to round out the trifecta of flavors.
Mango Strawberry a tropical blend of ripe mangos mixed with fresh and juicy strawberries. Each mouth-watering puff is consistently tart yet sweet and perfect for those who love a fruity blend!
Guava Peach explodes with a sweetness that only ripe peaches can deliver,  along with the tartness of the exotic Asian guava.
For use in smaller pen style devices, pod systems and MTL tanks ONLY, we do not recommend these liquids to be used in high power sub ohm devices.
USA Made 
50/50 VG/PG 
10ml Bottle 
10 / 20mg Nic Salt 
Child Safe Cap 
Tamper Evident Seal 
Ingredients List: Propylene Glycol (50%), Vegetable Glycerine (50%), Food Grade Flavourings, Pharmaceutical Grade Nicotine – Made in ISO Clean Room.
Base Flavours: Guava, Peach, Mango, Strawberry, Kiwi, Pineapple, Grapefruit, Pear, Watermelon, Lime, Blueberry, Lemon, Peach