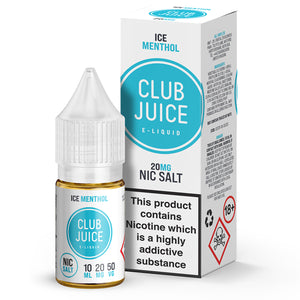 Ice Menthol Nic Salt e-liquid by Club Juice Salts is a blend that captures the cool and sweet taste of ice and menthol. The ice has a crisp taste that works very well with the smooth taste of menthol.
Part of the Club Juice Salts e-liquid range, this liquid uses salt nicotine that ensures a smoother throat hit when vaped.
Available as a 50% VG concentration, Ice Menthol works best with a mouth to lung vape kit, such as a pod kit or starter kit - producing a discreet amount of vapour. 
UK
50/50 VG/PG
10ml
10mg / 20mg nic salt