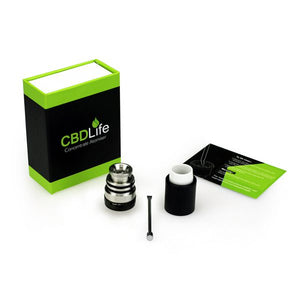 For all those looking to get into vapourising concentrates (dabbing) and already own their own vape device or battery then this is the perfect atomiser for you. The kit comprising of everything that you will need to get started vaping/dabbing our dab extracts.
Simply screw on the concentrate atomiser to your suitable battery, remove the cover to show the coil underneath then pack it with a small amount of your favourite dab extract. Then place the cover over and hold the power button on your battery to heat the coil up. This will then atomise the dab extract so you can inhale the vapour.
Coils can be removed to be cleaned or replaced. If you get a lack of airflow through the coil you know it is time to clean. We recommend a bath of isopropyl to dissolve any extract then leave overnight to dry. Then burn off any remaining alcohol by heating the coil up without any extract in.
The kit you will receive consists of:
510 threaded atomiser
22mm diameter
Interchangeable coils with many options to choose from
Ceramic Mouth Piece
Adjustable Airflow control
Dab tool and instructions included
*not suitable for herbs*