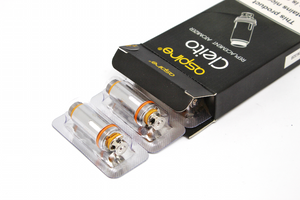 The Aspire Cleito Replacement Coils are available in both 0.2 Ohm and 0.4 Ohm resistances. These are sub ohm coils and give the user increased vapour production and flavour to match.
The 0.2 Ohm coils work best between 55 - 70W, and the 0.4 Ohm coils performs best between 45 - 60W. Utilising Clapton Kanthal wire, these coils provide a fast and even heat distribution, for an improved vape.
Note: The Aspire Cleito Coils are only compatible with the Aspire Cleito tank, and Cleito EXO Tank and cannot be used with Aspire's Cleito 120 tank.
Contains:
5 x Aspire Cleito Replacement Coils