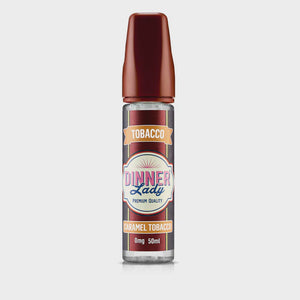 ALL shortfill bottles come with ZERO nicotine, don't forget to add your nicotine shots HERE.
Caramel Tobacco by Dinner Lady features a bittersweet tobacco base is fused with a smooth vanilla creme and a dark, decadent caramel for a complex vape.
Smooth Tobacco is available as a 50ml shortfill with space for a 10ml nic shot of your choice. Featuring a 70% VG ratio. 
0mg
UK Made
70/30 VG/PG
50ml shortfill
Takes 1 x 10ml Nic Shot
Child Safe Cap
Tamper Evident Seal
Ingredients List: Propylene Glycol (30%), Vegetable Glycerine (70%), Food Grade Flavourings - Made in ISO Clean Room
Base Flavours: Tobacco, Caramel