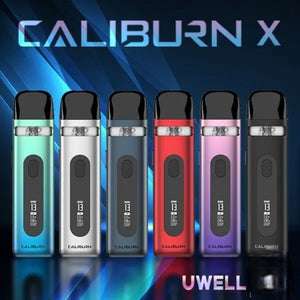 The Uwell Caliburn X vape kit is ideal for both new and experienced vapers who are looking for a pod kit that delivers an MTL (Mouth To Lung) inhale. Thanks to the 850mAh battery, this kit can last all day on a single charge, and the USB-C charging port means faster charging when the battery runs out. The kit includes a refillable Caliburn X Pod as well as two Caliburn G2 coils.
The Caliburn X features inhale activation there are no complicated menus to navigate, just puff on the mouthpiece to vape. Alternatively, there is also a single button you can push and hold to activate the kit. The small screen on the kit means you can see information like the wattage and battery life and there is also a small window so you can see how much eliquid is left in the pod.
Thanks to the push-fit coil design, it's easy to remove the old one and then slide a new one into place. The G and G2 coils included with the kit feature a mesh build, meaning the coil has a large surface area which increases flavour and vapour production. We recommend you pair this kit with nic salts, 50/50 or high PG eliquids.
Contents:
Uwell Caliburn X Device
Caliburn X Refillable 2ml Pod
UN2 Meshed-H 0.8 Ohm Caliburn G Coil (Pre-Installed)
UN2 Meshed-H 1.2 Ohm Caliburn G2 Coil (Spare)
Type-C Charging Cable
User Manual